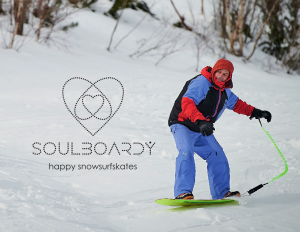 Bindingless riding is getting more and more popular.
WE KNOW THE REASON WHY.
IT IS A HELL OF A FUN!
We have been fascinated with bindingless riding since 2006 when we first stood on a snowskate. In 2010 we built the first simple powdersurf and tried to ride it every possible minute on all kind of snow. It was fun but also frustrating, because it worked only on powder.
To be honest, it's not a big challenge to build a rideable board for powder… But we wanted to ride as much as possible. That means variety of different snow conditions.
THAT IS WHERE THE REAL CHALLENGE HAS STARTED.
WE WERE OBSESSED WITH THE VISION OF FULLY RIDEABLE ALL CONDITION BINDINGLESS SNOWSURF.
After years of tries and failures and a lot of experience sharing with powsurf builders from all over the world. We have found the right shapes and construction.
We work on brand new boards coming in autumn 2020.
ALL OF THEM WILL MAKE YOU RUN UP THE HILL OVER AND OVER WITH A HAPPY SMILE ON YOUR FACE.
A SIMPLE PLEASURE.
We offer snowsurfcamps, testrides and demos during the winter. Contact us for more info or follow us on FB and IG.